New Highway 401 signs (continued)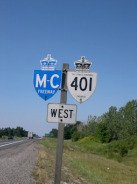 Faye Lyons, external affairs specialist with the Canadian Automobile Association, says government officials have told her there will be improved signage to make the motoring public more aware of the fact the sites remain open and there are services at them.
Yes, she said, the province has put up signs informing people that there are restrooms and foods (snacks) available in trailers at the sites, now under general reconstruction.
They also indicate how much further a motorist has to drive before they find fuel. But Lyons thinks the signs aren't clear enough and many motorists simply speed by, oblivious to them.
She says the province will also improve signs informing motorists about 24 hour food and fuel service stations off Hwy. 401 near interchanges.
"I know for a fact that there are even better (signs) that are coming because I've seen the paperwork," she said. She has been discussing the service centre reconstruction issue with a ministry official and saw a power point presentation that showed the new signs.
She said while the province has made a good effort to put up signs informing motorists that services are still available at the sites and that they can pull off the road to nearby 24 hour gas stations, it still can be confusing to many drivers, especially for those who "aren't really aware of the issue."
The province is reconstructing service centres after the 45-year leases ran out on 20 of them.
Many motorists, however, may think the service centre sites are completely closed.
In fact there are temporary restroom and food vending machines, water and telephones, often with picnic tables and plenty of parking.
In south western Ontario these include Tilbury North (westbound former Petro-Canada), Tilbury South (eastbound former Shell), and Dutton (eastbound former Shell between Chatham-Kent and London).
However, the West Lorne (westbound former Petro-Canada) between London and Chatham-Kent is fully closed.
"A lot of people think that there's nothing there but there is," Lyons said of most of the sites. "Maybe motorists should be advised that although there is no fuel you still can pull off."
But, she added, "They do kind of look closed, don't they?"
Meanwhile, expect a totally different concept when the new service centres do open.
Lyons said the centres will have better traffic flow, "consistent provincial branding" as well as "improved quantity and quality" of services and have "green sites" for alternative fuels.
She hasn't been told specifics but said the provincial branding would create consistency so that motorists would readily recognize them. "I think it's important because they know it's from the ministry, it's set up by the ministry and it's a good place to stop."
Transportation ministry spokesman Bob Nichols said terms and conditions of the agreement to design, construct and operate the centres should be concluded "shortly." The construction schedule will be determined later.
Nichols said the ministry is moving ahead with planning and environmental approvals to expedite the start of construction of the first seven locations, hopefully before the year is out.
The ministry selected Host Kilmer Service Centres Inc. for the project.
(Windsor Ontario News)