Lakeshore dirt bike accident (continued)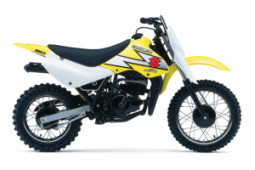 On Sunday an eight year old Lakeshore boy suffered a serious injury when he was hit by a car crossing West Puce Rd while operating a dirt bike.
According to the Ontario Off-Road Vehicles Act children younger than 12 can operate a dirt bike so long as they are "on land occupied by the vehicle owner" or "under the close supervision of an adult."
A witness told police that the boy was "unsupervised" when he was trying to cross the road from his driveway, OPP Constable Shawna Coulter said. She said the boy was "going westbound to cross into a field."
"There is no age limit when operating on private property where the child is driving the vehicle on land occupied by the vehicle owner or under the close supervision of an adult," transportation ministry spokesman Bob Nichols said.
Coulter said she lives in the county and "we have all kinds of kids who have dirt bikes."
The bikes are readily available for sale in hardware and recreation stores and come in a variety of sizes, some just 18 inches off the ground. The Lakeshore boy was driving a 2006 Suzuki JR 80cc (like that shown in photo).
"If you go to a motorcycle shop they've got dirt bikes that for sure are for kids, they aren't for parents," she said.
The Lakeshore boy required pins and a brace for injuries sustained in his lower right leg, and will be off that leg for three months, Coulter said.
George Smith of the Canada Safety Council said that in many accidents inadequate supervision is to blame.
"What happens in a lot of cases is a lack of parent supervision."
He said many parents buy the bike for their child and think supervision is "Well, I fuelled it up and I handed the child a key and there he goes."
He said under the act a parent "should have been at that site or at that scene, where their child was operating that vehicle."
One online dirt bike web site described the model involved in the accident as "designed for young riders who have gone beyond their 'first' bike."
Windsor Ontario News